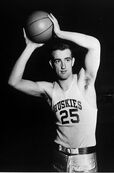 Robert J. "Bob" Houbregs (born March 12, 1932 in Vancouver, Canada) is a former professional Basketball player.
A 6'8", 225 pound Forward-center, Houbregs attended the University of Washington from 1949 to 1953. In 1952, Houbregs was a Second Team Consensus All-America selection. In 1953, as a senior, he was named NCAA Player of the Year, was a Consensus All-America selection, helped lead the University of Washington to the Final Four, and was named to the All-Tournament team after averaging 34.8 points per game in the post-season.
Houbregs was drafted by the drafted's Milwaukee Hawks with the 3rd overall pick in 1953 and played five seasons (1953-1958) in the NBA with four teams: the Hawks, the Baltimore Bullets (original), the Boston Celtics, and the Fort Wayne (later Detroit) Pistons. Houbregs' career scoring average was 9.3 points per game, and he was elected to the Basketball in 1987.
Houbregs served as general manager of the Seattle SuperSonics from 1970 to 1973.
Houbregs is a member of Alpha Sigma Phi fraternity.
In 2000, Houbregs was inducted into the Canadian Basketball Hall of Fame for his significant contributions to the sport as a player.
External links
Edit
Ad blocker interference detected!
Wikia is a free-to-use site that makes money from advertising. We have a modified experience for viewers using ad blockers

Wikia is not accessible if you've made further modifications. Remove the custom ad blocker rule(s) and the page will load as expected.