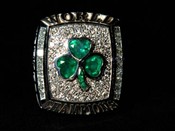 The Celtics 2008 Championship ring is manufactured by Balfour. Each ring, which is made of 14-karat white gold, is worth approximately $30,000. The ring also contains nearly 9cts of gemstones, including a combination of 92 diamonds and emeralds.
Three custom-cut 8 mm heart-shaped and three custom-cut baguette emeralds are used to make the shamrock which sits on the top of the ring. There are 64 pave set diamonds surrounding the emerald shamrock. In addition, the bezel is set with 20 princess-cut diamonds and a 0.10 ct diamond in the Larry O'Brien trophy on the shank of the ring. Another shank says "Banner 17" in celebration of the Celtics 17th finals win. The other shank has the word Ubuntu (African word meaning "I am, because we are), the teams mantra, on it. The backgrounds of each shank are meant to mimic the teams' parquet floor. Red Auerbach's name is engraved inside each ring. Lastly, each player's ring has his name and number and the teams record (66-16) included on his ring.
How to Get a Ring
Edit
Like the Red Sox before them, the Celtics have decided to raffle off one authentic ring to benefit charity (in this case, the Boston Celtics Shamrock Foundation).
If you don't win the raffle and have lots of money to spend, you can purchase an "Ultimate Fan Ring" with diamonds for $4,900.