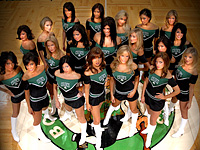 The Celtics Dancers are the cheerleading squad for the Boston Celtics. They perform at Celtics games and are a fan favorite. There is a yearly audition (the 2008 audition was held in Waltham, MA.); dancers from previous years are required to re-audition to maintain a spot on the team. The 2008-09 roster is:
Ad blocker interference detected!
Wikia is a free-to-use site that makes money from advertising. We have a modified experience for viewers using ad blockers

Wikia is not accessible if you've made further modifications. Remove the custom ad blocker rule(s) and the page will load as expected.