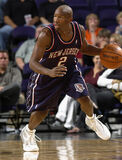 Douglas M. Overton (born August 3, 1969 in Philadelphia, Pennsylvania) is a former American professional Basketball player who was selected by the Detroit Pistons in the 2nd round (40th overall) of the 1991 NBA Draft. A 6'3" point guard from La Salle University, Overton played in 11 NBA seasons for 8 different teams. He played for the Washington Bullets, Denver Nuggets, Philadelphia 76ers, Orlando Magic, New Jersey Nets, Boston Celtics, Charlotte Hornets and Los Angeles Clippers.
In his NBA career, Overton played in 499 games and scored a total of 2,253 points. In May 2006, Overton was named assistant men's basketball coach at Saint Joseph's University.
Overton also spent time with the Illawarra Hawks of the Australian National Basketball League (Australia).
He is currently an assistant coach for the New Jersey Nets.
he had approximately 12 10 day contracts
External links
Edit
Ad blocker interference detected!
Wikia is a free-to-use site that makes money from advertising. We have a modified experience for viewers using ad blockers

Wikia is not accessible if you've made further modifications. Remove the custom ad blocker rule(s) and the page will load as expected.