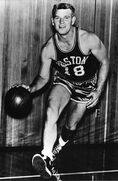 James Loscutoff Jr. (born February 4 1930 in San Francisco, California, United States) is a former professional Basketball player for the NBA's Boston Celtics. He attended Grant Tech, a two year college in Del Paso Heights, California which later became American River College and later the University of Oregon.
Standing 6'5", Loscutoff was selected with the fourth pick of the first round in the 1955 NBA Draft. In nine seasons from 1955 to 1964, he played Forward (basketball) and won seven championship rings as part of the legendary Celtics teams of the 1960s. He was originally drafted by coach Red Auerbach to provide some much-needed defensive nerve for the Celtics team, which (despite becoming the first team to average 100 points per game in the 1954-55 season) had one of the worst defensive records in the league.
Loscutoff was described by one player as a hatchet-man, and his defense and strength were part of the defensive greatness of the 60s Celtics, alongside fellow Basketball Bill Russell.
Loscutoff's nicknames included "Jungle Jim" or "Loscy". The organization wished to honor Loscutoff, but he asked that his jersey number (18) not be retired so that a future Celtic could wear it. The number 18 was indeed worn by Dave Cowens, and it was after his tenure and in honor of him that the number was retired. However, Loscutoff does have an honorary banner amongst the rafters in the TD Banknorth Garden, along with the rest of the retired numbers — one displaying his nickname, Loscy.
Today, Loscutoff lives between Florida and Andover, Massachusetts, where his family owns a day camp for children.