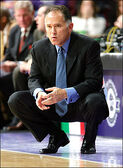 Jim O'Brien (born February 11, 1952 in Philadelphia], Pennsylvania) is the head coach of the Indiana Pacers of the National Basketball Association (NBA).
Previously, O'Brien was the head coach of the Philadelphia 76ers during the 2004-05 NBA season. The 76ers made the playoffs in his one season as coach after missing the postseason the previous year, and although O'Brien had a multiyear contract, he was fired because general manager Billy King wanted to hire Maurice Cheeks as head coach after Cheeks was fired by the Portland Trail Blazers. The Sixers did not make the playoffs again until 2008.
Coaching the 76ers was a homecoming for O'Brien, a Philadelphia native who attended Roman Catholic High School in his youth, and starred collegiately at St. Joseph's University. Before his stint in Philadelphia, O'Brien was the head coach of the Boston Celtics from 2001-2004, replacing Rick Pitino. He built a struggling Celtics team and took them twice into the playoffs. During the 2003-04 NBA season, however, O'Brien consistently fought with Celtics' general manager Danny Ainge over short-term versus long-term goals. Ainge was looking to completely redo the roster, and traded Eric Williams and Tony Battie, two of O'Brien's favorite hardworking players in December 2003. As a result of the conflict, O'Brien shocked everyone in the Celtics community by resigning in January 2004.
O'Brien was also head coach at Wheeling Jesuit University from 1982–87 and the University of Dayton from 1989–94. He led the Dayton Flyers to the second round of the NCAA Tournament in his first season, after winning the Midwestern Collegiate Conference; however he led the Flyers to just 10 wins in his last two seasons at the school and was fired after the 1993-1994 season. O'Brien then served as an assistant coach to Rick Pitino at the University of Kentucky from 1994 to 1997 and then with the Boston Celtics from 1997 to 2001.
He is the son-in-law of Hall of Fame coach Dr. Jack Ramsay, and was coached at Saint Joseph's by another former NBA coach, Jack McKinney.
The Indianapolis Star reported on May 31, 2007 that he would coach the Indiana Pacers. [1] He replaced Rick Carlisle, who was fired after four years, when the team failed in 2006-07 to make the playoffs for the first time in a decade.
O'Brien was also an analyst for ESPN's NBA coverage from 2005-07.
References
Edit
External links
Edit