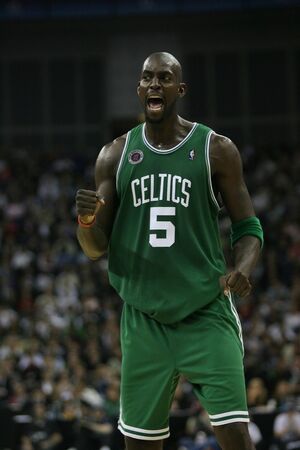 Kevin Garnett
Position 
Power forward/Center
Height 
6ft. 11in.
Weight 
220lb.
Jersey # 
5
Birthdate 
May 19, 1976
Kevin Maurice Garnett (born May 19, 1976 in Mauldin, South Carolina) is a power forward/center for the Boston Celtics. After graduating from Farragut Career Academy, he was the fifth player drafted in 1995. He became the first NBA player drafted directly out of high school in 20 years. His accomplishments include being voted Most Valuable Player of the 2003-04 season, NBA Defensive Player of the Year of the 2007-08 season, being named to eleven All-Star teams and being named to eight All-NBA and All-Defensive Teams. He is also the all-time leader in NBA seasons played with averages of at least 20 points, 10 rebounds, and 5 assists per game.
Latest News
Edit
Kevin Garnett has been suspended for one game due to hitting the Milwaukee Buck's Andrew Bogut in the face during the November 15th game. This verdict was handed down by the NBA. The missed game was on Nov. 18th against the New York Knicks.[1]
Kevin Garnett doesn't think he's good enough? Quote from Toronto Raptors coach Sam Mitchell: "I was telling him how proud I was, and he was like, 'Yeah, but, you know, I gotta do this,' and, 'I gotta do this,' and I'm listening to him, and, you have to realize, in his mind, he still doesn't think he's quite good enough. And I guess that's what you have to have to be great. You don't believe what people say about you.' Somewhere in his mind, he probably doesn't think he's quite good enough." [2]
Background
Edit
Statistics
Edit
College: None (Farragut Academy HS (Ill.))
Years pro: 14
Acquired: In a trade from the Minnesota Timberwolves in exchange for Ryan Gomes, Gerald Green, Al Jefferson, Theo Ratliff, Sebastian Telfair, a 2009 first round draft pick.
2008/2009 salary: $24.8 million
Signed through: 2011-2012
Last year's numbers: 18.8 ppg, 3.4 apg, 9.2 rpg
Strengths
Edit
Garnett is thought to be the most intense player in the NBA. He's credited with rapidly changing the culture of his sport based on his performance with the Celtics last season. Garnett is lanky, athletic and a great rebounder with a great outside touch. He also may be the best help defender in the NBA. He is better than lebron james
Weaknesses
Edit
Some say that Garnett played second fiddle to Paul Pierce during the finals.
Early years
Edit
Garnett was born in Mauldin, South Carolina to Shirley Garnett and O'Lewis McCullough. In his first three high school years, Garnett played for Mauldin High School. However, during the summer prior to his senior year of high school, Kevin was in the general vicinity of a fight between black and white students. Although not directly involved, Garnett was arrested. Due to the racially charged incident and fearful of being a target, Garnett decided to leave Mauldin. He transferred to Farragut Career Academy in Chicago, Illinois for his senior year of high school. He led Farragut to a 28–2 record and was named National High School Player of the Year by USA Today. He was named Mr. Basketball for the State of Illinois after averaging 25.2 points, 17.9 rebounds, 6.7 assists and 6.5 blocks while shooting 66.7% from the field. In four years of high school, Garnett posted an impressive 2,533 points, 1,807 rebounds and 739 blocked shots. He was named the Most Outstanding Player at the McDonald's All-American Game after registering 18 points, 11 rebounds, 4 assists and 3 blocked shots, and then declared himself eligible for the drafted in 1995. Garnett played alongside Ronnie Fields in high school, who also followed a professional career. Garnett also excelled in soccer during his high school days.
NBA career
Edit
1995–97: First years
Garnett was drafted with the fifth pick of the drafted in 1995 by the struggling Minnesota Timberwolves, and became the first player to be drafted directly out of high school since Moses Malone in 1974. After joining the NBA for the 1989-90 season, the Timberwolves had not won more than 29 games in any season. In Garnett's rookie season, the Timberwolves were in the midst of a transition phase; they replaced Bill Blair with Flip Saunders as head coach early in the season and made several trades. Garnett initially came off the bench in his rookie year, but moved into the starting lineup soon after Saunders became head coach. In his rookie year, Garnett and fellow newcomer Tom Gugliotta carried the scoring load. Garnett did not immediately leap to stardom as later prep-to-pro prospects such as Amare Stoudemire, LeBron James, and Dwight Howard would, but he did have a very respectable rookie year. He averaged 10.4 points, 6.3 rebounds and 1.8 assists per game and was voted into the All-Rookie Second Team. Garnett's name was mentioned in various trade rumors involving the Chicago, Los Angeles Lakers, Golden State Warriors, Indiana Pacers, Boston Celtics, Phoenix Suns, and Dallas Mavericks.
2007–present: Boston Celtics
On July 31, Kevin Garnett, now wearing #5, was traded to the Boston Celtics in exchange for Al Jefferson, Ryan Gomes, Sebastian Telfair, Gerald Green, Theo Ratliff, cash considerations, Boston's 2009 first-round draft pick (top 3 protected) and the 2009 first-round pick Minnesota had traded to Boston in the Ricky Davis-Wally Szczerbiak trade of 2006. The 7-for-1 deal constitutes the largest number of players traded for a single player in league history. At the time of the trade, Garnett had the longest current tenure of any player in the NBA with one team, having played for the Timberwolves for his first 12 seasons (a total of 927 games). Garnett is cited at ESPN.com as saying he is proud to be a part of the Celtics, and hopes to continue its proud tradition and basketball success. On the day the trade was announced, Garnett signed a three-year $60 million contract extension that will start after his current deal runs out in two years.
On August 1, the day after signing his Celtics contract, Garnett threw out the ceremonial first pitch at Fenway Park prior to a Red Sox-Orioles game. Garnett has claimed to be a long-time Red Sox fan.
On January 24, it was announced that Garnett led all players in final votes received in the NBA All-Star Ballot that determined the starters for the 2008. Garnett received 2,399,148 votes, the 6th highest total in NBA All-Star Balloting history. Among active players, Garnett's 11 All-Star selections rank second to Shaquille O'Neal, who has appeared 14 times in the All-Star Game. However, Garnett was unable to play due to an abdominal strain, and Detroit Pistons forward Rasheed Wallace was named by NBA Commissioner David Stern to replace him. East All-Star head coach Doc Rivers replaced Garnett with Toronto Raptors forward Chris Bosh in the starting lineup.
On March 8, Garnett passed 20,000 points for his career, becoming the 32nd player in NBA history to achieve that mark, with a layup in the 2nd quarter against the Memphis Grizzlies. The only other active players who have passed that mark are Shaquille O'Neal, Allen Iverson and Kobe Bryant.
On April 22, Garnett was named the NBA Defensive Player of the Year for the 2007-08 season. It was the only major award a Celtic player had not claimed since the franchise's foundation in 1946. However, Garnett claimed it was a team effort which helped him win the award.
On June 17, Garnett helped the Celtics to win their 17th NBA Championship, with 26 points and 14 rebounds in 2008.
Kevin Garnett is the NBA's highest paid players and is one of nine NBA players who make over $20 million in the 2008 season. [3]
Personal life
Edit
Garnett married long time girlfriend Brandi Padilla during a private ceremony in California. The wedding was the reason he did not take part in the Olympic games. The marriage also made Garnett the brother-in-law of music producer Jimmy Jam Harris. Garnett is also a cousin to former Los Angeles Lakers player Shammond Williams, and is the half brother of Louis McCullough, who played for the American Basketball Association (2000-)'s Syracuse Raging Bullz.
In November 2005, Garnett donated $1.2 million to Oprah's Angel Network to help with Hurricane Katrina relief efforts.
He is a soccer fan, being known to follow Chelsea F.C. of the English Premier League, as well as having been spotted at various Los Angeles Galaxy games.
In the New England area, Garnett is a resident of Concord, Massachusetts, owning a home worth roughly $4.6 million.
Although Garnett is officially listed as by the NBA, many, including the Boston Celtics, believe he is . During the 2007-08 season, Garnett admitted in an interview with Craig Sager to be tall.
His nicknames include "The Big Ticket", "KG", "The Kid", and formerly "The Franchise" (after being known as the Minnesota Timberwolves' franchise player).
Garnett missed two Celtics practices leading up to the playoff series against the Atlanta Hawks to attend the birth of his baby on April 18, 2008.
Garnett prepared for defending the Celtics 2007 title by practicing his soccer skills. He built a full-sized pitch in his backyard so he could practice his striker skills.
Like most of the Celtics, Garnett wanted Obama to win the 2008 Presidential Election. In fact, Garnett originally wanted his special pair of election day game sneakers to say "Obama for Change". That wording, however was nixed by the NBA and changed to "Embrace Change '08". [4] Not only does Garnett use soccer in his training, he also plays soccer recreationally and watches it on TV. [5] He has even visited training camps and attended games for major professional soccer leagues. During the 2007-08 playoffs and finals, Garnett shot videos incorporating soccer and has done TV commercials with soccer themes.
Achievements
Edit
During his time in the league Garnett has established a long list of achievements, including:
NBA Champion: 2008
NBA Most Valuable Player: 2004
NBA Defensive Player of the Year: 2008
USA Olympics: Gold Medal: 2000
NBA All-Star Game MVP: 2003
11-time NBA All-Star: 1997, 1998, 2000, 2001, 2002, 2003, 2004, 2005, 2006, 2007, 2008
9-time All-NBA:
First Team: 2000, 2003, 2004, 2008
Second Team: 2001, 2002, 2005
Third Team: 1999, 2007
First Team: 2000, 2001, 2002, 2003, 2004, 2005, 2008
Second Team: 2006, 2007
NBA All-Rookie Second Team: 1996
4-time NBA regular-season leader, rebounds per game: 2004 (13.9), 2005 (13.5), 2006 (12.7), 2007 (12.8)
2-time NBA regular-season leader, rebounds: 2004 (1,139), 2005 (1,108)
5-time NBA regular-season leader, defensive rebounds: 2003 (858), 2004 (894), 2005 (861), 2006 (752), 2007 (792)
NBA regular-season leader, points: 2004 (1,987)
NBA regular-season leader, field goals made: 2004 (804)
J. Walter Kennedy Citizenship Award: 2006
Career triple-doubles (regular season): 17 (as of March 4, 2007-08 season)
Career triple-doubles (post-season): 3 (as of 2006)
Only player in NBA history to:
average at least 20 points, 10 rebounds, and 5 assists per game for 6 consecutive seasons. (1999–2005)
average at least 20 points, 10 rebounds, and 4 assists per game for 9 consecutive seasons. (1998–2007)
reach at least 20,000 points, 11,000 rebounds, 4,000 assists, 1,200 steals, and 1,500 blocks in his playing career.
Holds Minnesota Timberwolves franchise record for most points in one game with 47 vs. the Phoenix Suns on January 4, 2005.
Holds Minnesota Timberwolves franchise career records for points, 19,041; rebounds, 10,542; assists, 4,146; blocked shots, 1,576; steals, 1,282; and games played, 927.
Ranked #70 on SLAM Magazine's Top 75 NBA Players of All Time in 2003.
Achieved 10,000 total rebounds in his career on January 13, 2007-08 season.
Career stats (regular season): 998 games, 20.4 ppg, 11.2 rpg, 4.4 apg, 1.6 bpg, 1.4 spg, .494 FG%, .284 3P%, .781 FT%
Career stats (post-season): 48 games, 22.2 ppg, 13.3 rpg, 5.0 apg, 1.8 bpg, 1.3 spg, .457 FG%, .333 3P%, .761 FT%
External links
Edit