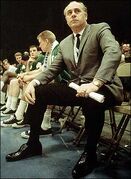 Arnold Jacob "Red" Auerbach (September 20, 1917 – October 28, 2006) was a Basketball coach of the Washington Capitols, the Tri-Cities Blackhawks and the Boston. After he retired from coaching, he served as president and front office executive of the Celtics until his death. As a coach, he won 938 games (a record at his retirement) and 9 National Basketball Association (NBA) championships, a coaching record shared with Phil Jackson. As general manager and team president of the Celtics, he won an additional 7 NBA titles, for a grand total of 16 in a span of 29 years, making him one of the most successful team officials ever in the history of North American professional sports.
Auerbach is remembered as a pioneer of modern basketball, redefining basketball as a game dominated by team play and tough defense rather than individual feats and high scoring and introducing the fastbreak as a potent offensive weapon. Famous for his polarizing nature, he was also well-known for smoking victory cigars when he thought a game was decided, a habit that became cult in Boston. and was NBA Executive of the Year in 1981.
The next year the Capitols went 28–20 With that, Auerbach effectively broke down the color barrier in professional basketball. As a result, Auerbach sought a defensive big man who could both get easy rebounds, initiate fastbreaks and close out games.
Flowing from Auerbach's emphasis on teamwork, what was also striking about his teams was that they never seemed to have a dominant scorer: in the 1960-61 NBA season for instance, the Celtics had six players who scored between 15 and 21 points, but none made the Top 10 scoring list.
Private life
Edit
Auerbach was one of four children of American-born Marie Auerbach and Russian Jewish immigrant Hyman Auerbach in Brooklyn. His brother Zang Auerbach, four years his junior, was a respected cartoonist and portraitist at the Washington Star. Auerbach was survived by his two daughters, Nancy and Randy. Auerbach was buried in Falls Church, Virginia at the King David Memorial Gardens / National Memorial Park on October 31, 2006.
During the 2006-07 NBA Season, Auerbach appeared posthumously in a series of NBA commercials where he breaks down formations like "3 on 2 situations" and "rebounding," and as a testament to his importance in the Boston sports world, the Boston honored Auerbach at their April 20th, 2007 game against the New York Yankees by wearing green uniforms and by hanging replicated Celtics championship banners on the "Green Monster" at Fenway Park. Boston won 7-6.
Prior to Boston's season opener against the Wizards, his signature was officially placed on the parquet floor near center court, thereby naming the court as "Red Auerbach Parquet Floor." The ceremony was attended by his daughter Randy and some of the Celtics legends. The signature replaced the Red Auerbach memorial logo used during the 2006-07 NBA Season.
Among Auerbach's accomplishments during his 20-year professional coaching career were eleven Eastern Division titles (including nine in a row from 1957-1965), eleven appearances in the finals (including ten in a row from 1957-1966), and nine NBA championships. With a total of 16 NBA championship rings in a span of 29 years (1957-1986) as the Celtics coach, general manager, and team president, Auerbach is the most successful official in NBA history.[1] He is credited with creating several generations of championship Boston Celtics teams, most notably the first Celtics dynasty with Bill Russell which won an unprecedented eight titles in a row (1959-1966). As Celtics general manager, he created championship-winning teams around Hall-of-Famers Dave Cowens in the 1970s and Larry Bird in the 1980s.[1]
In addition to coaching, Auerbach was a highly effective mentor; several players coached by Auerbach would become successful coaches themselves. Bill Russell won two titles as Auerbach's successor, Tom Heinsohn won a pair of championships as a Celtics coach in the 1970s, K.C. Jones led the Celtics to two further titles in the 1980s, and Bill Sharman coached the Los Angeles Lakers to their first title in 1972. In addition, prototypical sixth man Don Nelson had a highly successful coaching career and joined his mentor Auerbach as one of 10 Greatest Coaches in NBA history.
In Auerbach's honor, the Celtics have retired a number-2 jersey with the name "AUERBACH," memorializing his role as the second most important Celtic ever, behind founder Walter Brown, in whose honor the number-1 "BROWN" jersey is retired.
Coaching pioneer
Edit
From his early days, Auerbach was convinced that the fastbreak, in which a team used a quick outlet pass to fast guards who run downcourt and score before the opponent had re-established position, was a potent tactical weapon. This new strategy proved lethal for the opposition.[1] Further, Auerbach moved emphasis away from individual accolades and instilled the teamwork element into his players.[2] He also invented the concept of the role player and of the sixth man],[1] stating: "Individual honors are nice, but no Celtic has ever gone out of his way to achieve them. We have never had the league's top scorer. In fact, we won seven league championships without placing even one among the league's top 10 scorers. Our pride was never rooted in statistics."[2]
While Auerbach was not known for his tactical bandwidth, famously restricting his teams to just seven plays,[2] he was well-known for his psychological warfare, often provoking opposing players and officials with unabashed trash talk. For his fiery temper, he was ejected more often and received more fines than any other coach in NBA history.[3] Concerning his own team, Auerbach was softer. Earl Lloyd, the first black player to play in the NBA, said: "Red Auerbach convinced his players that he loved them […] so all they wanted to do was please him."[3]
Color no barrier
Edit
Auerbach was known for choosing players for talent and motivation, with disregard for skin color or ethnicity. In 1950, he made NBA history by drafting the league's first African-American player, Chuck Cooper. He constantly added new black players to his squad, including Bill Russell, Tom Sanders, Sam Jones, K.C. Jones and Willie Naulls. In 1964, these five players became the first African-American starting five in the NBA. When Auerbach gave up coaching to become the Celtics general manager in 1966, he appointed Bill Russell as his successor. Russell became not only the first black NBA coach, but the very first African-American coach of a professional sports organization.[4] Similarly, in the 1980s, as the Celtics GM, Auerbach fielded an earnest, hardworking team that was derided as being "too white." [1][2] While the 1980s Celts were, in actuality, neither predominantly white nor black, the NBA at the time was predominately black. White players like Larry Bird, Kevin McHale, Danny Ainge, Bill Walton and Dave Cowens played alongside Tiny Archibald, Dennis Johnson, Robert Parish, and Cedric Maxwell bringing three more championships in the '80s under coaches Bill Fitch (white) and K.C. Jones (black).
Arnold "Red" Auerbach Award
Edit
To honor Auerbach, the Celtics created the Arnold "Red" Auerbach award in 2006. It is an award given annually to the current Celtic player who "best exemplifies the spirit and meaning of what it is to be a Celtic. This award is named in honor of the legendary Coach, General Manager and President of the organization, Arnold 'Red' Auerbach."
Winners:
Auerbach was the author of seven books. His first, Basketball for the Player, the Fan and Coach, has been translated into seven languages and is the largest-selling basketball book in print.[1] His second book, co-authored with Paul Sann, was Winning the Hard Way. He also wrote a pair of books with Joe Fitzgerald: Red Auerbach: An Autobiography and Red Auerbach On and Off the Court. In October, 1991, M.B.A.: Management by Auerbach, was co-authored with Ken Dooley. In 1994, Seeing Red was written with Dan Shaughnessy. In October 2004, his last book, Let Me Tell You A Story, was co-authored with sports journalist John Feinstein.
References
Edit
External links
Edit
Cite error: <ref> tags exist, but no <references/> tag was found