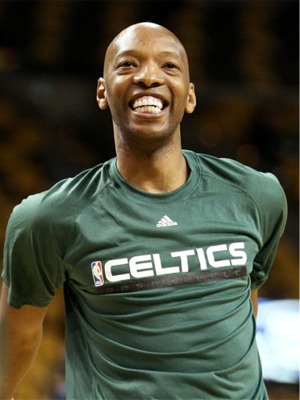 Sam Cassell
Position 
Point Guard
Height 
6ft. 3in.
Weight 
193lb.
Jersey # 
12
Birthdate 
Nov. 18, 1969
Samuel James Cassell (born November 18, 1969 in Baltimore, Maryland), commonly referred to as Sam Cassell, is a point guard for the Boston Celtics. The point guard was selected out of Florida State University by the Houston Rockets with the 24th overall pick in the 1993 NBA Draft. He won two NBA Championships in his first two seasons in the league as a member of the Rockets, and his third with the Boston Celtics in 2008. He was voted into the NBA All-Star Game and All-NBA Team once, both in the 2003-04 season. He has also played for the Phoenix Suns, Dallas Mavericks, New Jersey Nets, Milwaukee Bucks, Minnesota Timberwolves and Los Angeles Clippers.
Latest News
Edit
In an extensive interview given to the Boson Globe on his birthday, November 18th, Cassell laments the state of today's basketball-playing youths: "Basketball was my outlet. Kids today don't play basketball like when I was growing up. We would play all day every day. You go to Boston right now, a nice day like this, you'll see 20 courts empty. Twenty years ago, 30 years ago, those courts were filled with guys, everyone had something to prove. Now, it's video games." On a more upbeat note, however, he remarks on his plans for the future: "Two or three years from now, I want to be a head coach ... and I'm going to be a hell of a coach." [1]
The veteran player is facing some skepticism from fans and news sources. About Cassell, ESPN.com has said in their 2009 projections: "This guy is still playing? ... Cassell may play an important leadership role off the bench, but he won't have any fantasy value in Boston after averaging just 7.6 points and 2.1 assists per game for the Celts last season." [2]
Background
Edit
Statistics
Edit
College: Florida State
Years pro: 15
Acquired: Signed with Celtics in May, 2008
2008/2009 salary: $1.26 million
Signed through: This season (guaranteed contract)
Last year's numbers: 7.6 ppg, 2.1 apg, 1.8 rpg in 17 games with Boston.

Strengths
Edit
With 15 years in the NBA and two championship wins, Cassell has experience on his side. Additionally, Cassell has a strong jump shot for a point guard and a reputation as someone opponents can't leave open from deep.
Weaknesses
Edit
At 38, Cassell's age makes him a liability for the team. While his offense is usually his strength, Cassell was never able to master the Celtics' system last season.
After graduating from Dunbar High School in Baltimore, Maryland, Cassell chose to start his college career at San Jacinto College in Texas, where he was known as a big scorer. However, he transferred to Florida State University for his junior and senior years. In his senior year in 1992-93, he averaged 18.3 points, 4.9 Assist (basketball), and 4.3 rebounds per game and led the Atlantic Coast Conference (ACC) in steals. Together with teammate Bob Sura, he formed the highest scoring and rebounding backcourt in the nation with 38.2 points and 10.4 rebounds per game.
On February 14, 2008, in a Valentine's Day loss to Wake Forest, Cassell's jersey was retired by Florida State. His jersey is only the fourth of a male basketball player to hang from the rafters at the Donald L. Tucker Center.
Early NBA career
Edit
Cassell was selected out of Florida State University with the 24th overall pick of the 1993 NBA Draft by the Houston Rockets as eventual successor to Kenny Smith at the point guard position. Eventually, he split point guard duties with Smith in 1994 and 1995, his first two seasons in the league, and helped the Rockets win two NBA Championships. After the 1995-96 season, he was traded to the Phoenix Suns, along with Robert Horry, Chucky Brown and Mark Bryant, in exchange for Charles Barkley, but his tenure there was brief, as he appeared in just 22 games for the Suns.
On December 27, 1996, he was traded along with Michael Finley, A.C. Green and a second-round draft pick to the Dallas Mavericks in exchange for Jason Kidd, Tony Dumas and Loren Meyer. However, midway through the 1996, after appearing in just 16 games for the Mavericks, he was traded along with Chris Gatling, Jim Jackson, George McCloud and Eric Montross to the New Jersey Nets in exchange for Shawn Bradley, Ed O'Bannon, Robert Pack and Khalid Reeves on February 17, 1997. Following the season, he elected to re-sign with the Nets.
Milwaukee Bucks
Edit
Midway through the 1998-99 season, he was dealt again, for the fourth time in 6 seasons, in a three-way trade with the Minnesota Timberwolves, which sent him to the Milwaukee Bucks along with Brian Evans, Chris Gatling, a 1999 first-round draft pick and a future first-round draft pick on March 11, 1999 first-round draft pick. On March 3, 2001, he scored his career-high of 40 points against the Chicago Bulls. During All-Star Weekend in 2001, he won the Fleer Shootout at Jam Session on All-Star Saturday. He almost reached the NBA Finals with the Bucks in 2001, falling just short when they lost in Game 7 of the Eastern Conference Finals against the Philadelphia 76ers. During the 2002-03 season, he passed 10,000 points for his career.
Minnesota Timberwolves
Edit
After spending 4 seasons with the Bucks, he was traded along with Ervin Johnson to the Minnesota Timberwolves in exchange for Joe Smith and Anthony Peeler following the 2002-03 season. He arguably had his best season in 2003-04 season, when he was named to the All-NBA Team and All-Interview Second Team, and voted into the 2004 NBA All-Star Game. He also helped the Timberwolves to reach the 2004 Western Conference Finals.
Los Angeles Clippers
Edit
After the 2004-05 season, the Timberwolves traded him and a conditional first-round pick to the Los Angeles Clippers in exchange for Marko Jarić and Lionel Chalmers. Cassell appeared to have found a home with the Clippers, as he led them to the Western Conference Semifinals in the 2006 Playoffs. In the First Round, they beat the Denver Nuggets in five games, but would eventually fall to the Phoenix Suns in a 127-107 blowout in Game 7. Before the 2006-07 season, Cassell was tempted to take a two-year, $15M offer from the Atlanta Hawks, but eventually re-signed with the Clippers on a two-year, $13M deal.
Buyout limbo
Edit
Throughout the 2007-08 season, it had been rumored that Cassell would get bought out of his contract with the Clippers, especially after they let the trade deadline pass without dealing him. Cassell first denied that he was pushing strongly towards a buyout, but eventually acknowledged his buyout talks with the Clippers. On February 26, 2008, it was reported that the Clippers would officially announce the buyout later that day, but that did not happen, and only some days later the interests of both parties were reported to be far apart. Cassell would have to walk away from all of his remaining salary to receive a buyout, and initially was not ready to do so. According to the agreement, Cassell received half of his remaining salary, roughly $850,000.
Boston Celtics
Edit
Cassell became an unrestricted free agent on March 3, 2008, 6 p.m. Eastern Time Zone (North America), when he cleared waivers, and was eligible to sign with a team of his choice. Although the Dallas Mavericks, Denver Nuggets and Phoenix Suns were interested in his services, he was strongly linked with a poised move to the Boston Celtics and was expected to be in Boston once he cleared waivers. Cassell has said that he would wear either No. 28 or No. 91 on his jersey,
According to his agent, Cassell had signed a contract with the Boston Celtics on March 3, 2008, but the signing was pending an official league announcement. However, his arrival was delayed because of a death in his family. but immediately flew back to his hometown of Baltimore to attend funeral services for his deceased family member. He made his debut against the Philadelphia 76ers on March 10, 2008.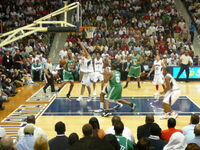 On March 17, 2008, Cassell had a standout performance in a Saint Patrick's Day matchup against the San Antonio Spurs, when he led the team from a 22-point deficit to a 2-point victory, scoring 17 points and hitting a clutch shot late in the game.
On March 28, 2008, Cassell was honored as the 9th best of the 20 greatest players in franchise history during Milwaukee's 40th Anniversary Team Celebration, but could not attend the festivities because of the Boston Celtics' game against the New Orleans Hornets.
Personality
Edit
Cassell is known for his feistiness and outgoing personality. He was one of the Milwaukee Bucks' "Big Three", alongside Ray Allen and Glenn Robinson, that reached the Eastern Conference (NBA) Finals in 2001. Cassell explains how to Basketball against opposing guards, shoot pull-up jump shots and hit Buzzer beaters. He also states his admiration for retired NBA players Terrell Brandon and Jeff Hornacek, two prolific mid-range shooters after whom he modeled his game.
External links
Edit