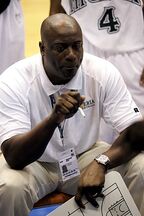 James Samuel ("Sam") Vincent (born May 18 1963 in Lansing, Michigan) is a retired American professional Basketball player and the former head coach of the Charlotte Bobcats.
Vincent won the State of Michigan "Mr. Basketball" award in 1981, the first year the award was ever given. He attended Lansing's Eastern High School (Michigan).
A 6'2" Point guard, Vincent followed in the footsteps of his older brother Jay Vincent, attending Michigan State University and earning Sporting News All-America honors in 1985. After graduating from college, he was selected by the Boston Celtics with the twentieth pick of the 1985 NBA Draft. He played two seasons for the Celtics, winning an NBA Championship ring as a reserve in 1986, before joining the Seattle SuperSonics, who promptly traded him to the Chicago Bulls for Sedale Threatt. After one-and-a-half solid seasons with the Bulls, he was selected by the Orlando Magic in the 1989 NBA Expansion draft, and he finished his NBA career with the Magic in 1992. He scored 3,106 points and tallied 1,543 assists during his seven-year tenure in the league.
Shortly after retiring, Vincent worked at Disney's Wide World of Sports in Walt Disney World. During the late 1990s, he coached basketball in South Africa, and he has also coached in Greece, Netherlands, Nigeria, and the NBDL. At the 2004 Summer Olympics, he led the Nigerian women's basketball team to a 68-64 victory over South Korea, which was the first ever victory by an African nation in an Olympic women's basketball contest.
Coaching career
Edit
He was coach of the Fort Worth Flyers in the 2005-2006 season. Shortly after coaching the Nigeria to the second round of the 2006 FIBA World Championship (including a shocking upset of traditional power Serbia and Montenegro), he was hired as an assistant coach by the Dallas Mavericks.
On May 25, 2007 Vincent was introduced as the new head coach of the Charlotte Bobcats of the NBA.. On April 26, 2008 Vincent was released of head coaching duties.
Coaching record
Edit
|- | align="left" |Charlotte Bobcats | align="left" |2007 |82||32||50||.390|| align="center" |4th in Southeast||—||—||— | align="center" |Missed Playoffs |- | align="left" |Career | ||82||32||50||.390|| ||—||—||—
External links
Edit