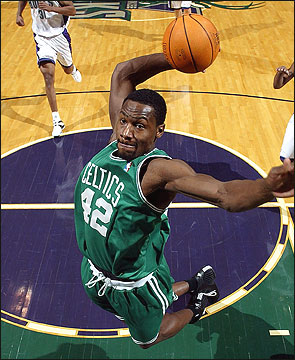 Tony Allen
Position 
Shooting guard/Point guard/Small forward
Height 
6ft. 4in.
Weight 
213lb.
Jersey # 
42
Birthdate 
Jan. 11, 1982
Anthony Allen (born January 11, 1982 in Chicago, Illinois), commonly referred to as Tony Allen, is a swingman for the Boston Celtics, who can play as a guard or a forward.
Latest News
Edit
Background
Edit
Statistics
Edit
College: Oklahoma State
Years pro: 4
Acquired: Drafted No.25 by Boston in 2004
2008/2009 salary: $2.5 million
Signed through: 2009-2010
Last year's numbers: 6.6 ppg, 1.5 apg, 2.2 rpg in 18 minutes
Strengths
Edit
Tony Allen is a great defender, and now that James Posey is gone he is one of the only players on the team who can go up against players like LeBron James and Kobe Bryant.
Weaknesses
Edit
Allen is an inconsistent scorer.
Early career
Edit
Allen played at Chicago's Crane High School, where he was a basketball standout. At Crane, Allen played alongside future Celtics prospect Will Bynum. A shooting guard, Allen spent his freshman year (2000-01) playing for Butler County College in El Dorado, Kansas, where he averaged 16.5 points, 6.1 rebounds and 2.8 steals, going on to being named Jayhawk West Conference Freshman of the Year. During his sophomore year (2001-02) at Wabash Valley College in Mount Carmel, Illinois, he led his team to 32-6 overall record and fourth place at the NJCAA championships.
He spent two nights in jail, but was not implicated in the shooting. Due to this incident and a rather severe right knee injury that Allen had suffered prior to the shooting, Allen missed much of the first half of the 2005-06 season. On April 24, 2007, the charges against Allen were dropped in a Chicago court. tearing both the tearing (ACL) and Medial collateral ligament (MCL). Allen underwent a successful tearing on January 13 at New England Baptist Hospital and was sidelined for the rest of the season. He made a fast return to the court for his type of knee injury only nine months later during the following preseason, even though not at full strength. However, the explosiveness he displayed prior to the injury was noted as "sorely lacking".
In his spare time, Tony Allen enjoys listening to music, and is considered somewhat of a music "connoisseur" by his Celtic teammates. He also frequently assists the Celtics in charity work in and around the Boston area. Allen was born to Ella Allen, and he has two sisters, Ebony and Dominique, and a brother, Ryan.
Ad blocker interference detected!
Wikia is a free-to-use site that makes money from advertising. We have a modified experience for viewers using ad blockers

Wikia is not accessible if you've made further modifications. Remove the custom ad blocker rule(s) and the page will load as expected.