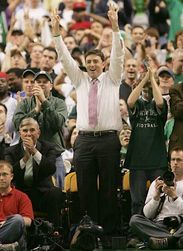 Wycliffe "Wyc" Grousbeck is co-owner of the National Basketball Association Basketball team the Boston Celtics.
Grousbeck, after leading a Venture capital firm, Highland Capital Partners, was part of the group (along with his father H. Irving Grousbeck and Stephen Pagliuca) that bought the Celtics in 2002 for $360 million.
Grousbeck graduated from Noble and Greenough School and Princeton University, where he rowed on an undefeated lightweight crew team. He received a law degree from the University of Michigan and an MBA from Stanford Business School.
H. Irving Grousbeck (father)
External links
Edit
Ad blocker interference detected!
Wikia is a free-to-use site that makes money from advertising. We have a modified experience for viewers using ad blockers

Wikia is not accessible if you've made further modifications. Remove the custom ad blocker rule(s) and the page will load as expected.